Ace fashion writer and stylist Sujata Asoomull, the Editor of Harper's Bazaar is marrying Jaideep Sippy next year. Jaideep and Sujata met at the Murjani Group where they worked earlier. Jaideep now works with BJETS, a private aviation company. As a top stylist Asoomull has done styling work for Bridal Specials in several glossies. So we're looking forward to seeing how Asoomull will pick and mix-n- match her bridal wear, jewellery and accessories.
Two fashion divas, Dr Alka Nishar of Aza and Poonam Soni, the ace jewellery designer are busy with planning their daughters wedding in December. Dr Alka Nishar, the high profile owner of the Aza boutique is regularly seen in city newspapers with designers and models announcing the latest Aza collection. On December 12th Alka's elder daughter Priyanka marries Sumit Saigal. Sabyasachi, Bal, Valaya, Varun Bahl, Rocky S are some of the top designers who stock their exquisite wedding wear at Aza. We wonder who will be the preferred picks for the Nishars and Saigals. Alka and her husband the IT czar Atul Nishar live at NCPA Apartments, the most prestigious address in Mumbai—so they are hosting the wedding reception at the beautiful and expansive lawns of the NCPA auditorium complex!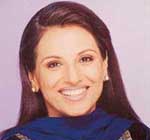 Poonam Soni's younger daughter Esha marries New York based Ketan Seetha at The Taj, Goa on December 21st. Esha studied at FIT, New York and has been living in the US since the last few years. Esha and Kriti (Poonam's elder daughter who is also a jewellery designer) fared brilliantly in studies and like their mother both opted for a career in design. Perfectionist Poonam goes about creating every detail of her events, with as much passion as she creates her jewellery designs. The wedding functions will be held over a few days in Goa and Mumbai. Many friends and family members of the groom are coming from the US and Poonam is making all efforts to give the guests an exquisite India experience.