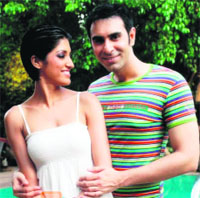 Dance maestro Sandip Soparrkar and model Jessy Randhawa who have been together since five years are marrying at the ISKON temple, Juhu on December 12th. After the wedding there will be a reception in Pune, where Soparkar's father, a retired army officer lives. Sandip has spoken about the wedding details in some interviews. The reception will be catholic style, with the dress code being coats and gowns—and of course there will be lots of dances. Jessy Randhawa's wedding outfit is being designed by AD Singh (not the restaurateur but the designer) while Soparkar's wedding dress is being made by one Deepak Shah. We're looking forward to seeing pictures of the temple wedding and all the dancing at the reception.
This is Jessy's second marriage—she was earlier briefly married to model Inder Mohan Sudan. Sometime back Soparkar adopted a child as a single father.
There's news that another model marriage is taking place soon—model cum actor Kushal Punjabi and his girlfriend Meghna Naidu are planning to marry in February—and in all probability the wedding venue is Goa.